Portsmouth man 'made terror book for money'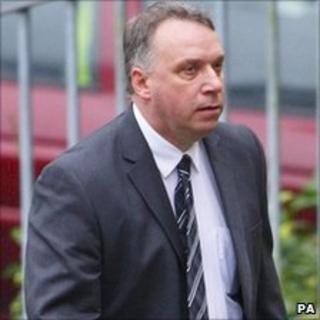 A man accused of publishing a "terrorist handbook" that explained how to make bombs has told a court he compiled it only to make money.
Terence Brown allegedly made CDs at home, containing thousands of pages of information with topics including "how to make a letter bomb".
He told jurors he was in debt and believed terrorists could access such material freely online themselves.
Mr Brown, 47, of Portsmouth, denies nine charges under terrorism laws.
The prosecution alleges Mr Brown's book, named after the 1970s Anarchist Cookbook, could have been used by terrorists to plan and commit atrocities.
Giving evidence at Winchester Crown Court, Mr Brown said he designed a website centred around the idea of the Anarchist Cookbook and started sold the CDs between 2003 and 2008.
'Freely available'
Asked by his counsel Joel Bennathan QC: "What was the primary motive for making the book? Mr Brown replied: "To make money."
He then told the jury: "I never thought any terrorist would use my product or website. A terrorist would mistrust my website."
Mr Brown said that to order the book you needed an e-mail address, credit card and address and that it was easy to find the information on the internet.
"They [terrorists] could simply search the internet and download the material I did - it's freely available," he told the jury.
He said terms and conditions on the site that told anyone who was a member of a terrorist organisation not to order the book.
During the trial the jury was told Mr Brown sold several thousand of the CDs worldwide for $35US (£24) each.
He denies seven counts of collecting information that could have been used to prepare or commit acts of terrorism under the Terrorism Act 2000, two counts of selling and distributing the information under the Terrorism Act 2006 and a further count under the Proceeds of Crime Act.
The trial is expected to last three weeks.