Southampton's £30m police HQ opens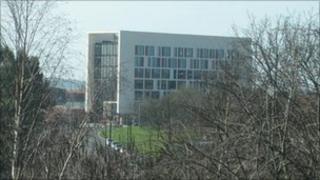 Southampton's £30m purpose-built police headquarters building has opened.
The station, in Southern Road, opened at 1400 GMT, when the old Southampton Central police station in the Civic Centre was shut.
The eight-storey building, funded by Hampshire Police Authority, has taken 18 months to build.
Hampshire Constabulary said there had been "a very different economic climate" when work began.
"However, the new building provides modern, purpose-built facilities which allow us to centralise many policing services under one roof for the first time, bringing greater operational efficiencies," a spokesperson said.
Custody cells
The new building has 36 custody cells, which began operations more than a week ago.
The former custody centre at the Civic Centre is being gradually decommissioned and will be handed back to the city council, along with the old building, at the end of the month.
Hampshire Police Authority chair Jacqui Rayment said: "The new building will increase police efficiency and reduce costs by combining a wider range of operations in one location.
"The building also provides a very impressive number of 'green' credentials."
Some partner agencies, such as Hampshire Probation Service, will also have teams based at the new building.
The former Southampton Central police station had been based at the Civic Centre since 1933.