Osborne House, Queen Victoria's island home to be renamed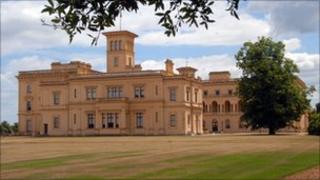 Queen Victoria's former palace on the Isle of Wight is having an official name change to Royal Osborne.
The 342 acre estate at East Cowes, currently known as Osborne House, was bought by Prince Albert and Queen Victoria in 1845.
It was the couple's main residence with their nine children.
An English Heritage spokesman said: "We hope that people will be delighted with the new name and will celebrate this royal association."
The name change will come into effect from 1 April.
Queen Victoria died at the palace in 1901 after reigning for nearly 64 years.
Her heir, Edward VII gave the house to the nation, it became a naval training college and then an officers' convalescent home.
Bathing machine
The grounds and gardens overlooking the Solent, contain a miniature fort and barracks, and the Queen's outdoor bathing machine which was used for sea bathing from the estate's private beach.
The estate also houses a "Swiss Cottage", a custom-built chalet with child-sized furniture, a working kitchen and garden built to educate the royal children.
On 29 April the royal residence will celebrate Prince William and Kate Middleton's wedding by showing the ceremony on a big screen on its lawns.
Visitors will be given a celebratory floral buttonhole made from the famous Royal Myrtle 'Myrtus communis' which is grown in the gardens.