Olympic boat project seeks crew for maiden voyage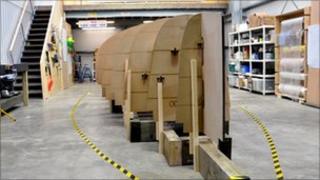 The organisers of a nautical art project are searching for a crew to sail a nine-metre (30ft) boat made from donated timber.
The sailboat will be manned by five sailors made up of people put forward by the public. Nominees can be complete novices or seasoned sailors.
About 160 items including paddles, spoons, drumsticks and house signs have been donated so far for the boat.
They aim to sail to the Olympic Park from Emsworth, Hampshire in May 2012.
The month-long maiden voyage along the south east coast will see the boat call in at four locations, before sailing up the Thames in July.
About 900kg of wood is still needed to finish the vessel.
'Exciting sail'
The project's executive director, Gwen Van Spijk said the crew would be sailing a boat that was "a living archive".
She added: "It's going to be a thing of beauty, the designer's brief was to design a boat to be an exciting sail, it will respond to the wind and provide that thrilling sail."
The craft is being built by Mark Covell, a Portsmouth boat builder and Sydney 2000 silver medallist in Open Star Sailing, along with Lymington yacht designer Simon Rogers.
Mr Rogers said: "This has to be the first time in 20 years that I have been involved with something that on the surface appears potentially so simple.
"But due to the materials being donated during the build, we have little idea what she will finally be built of."
Some donations are being incorporated into the main structure, others are going into the rudder or seating.
The outer skin is being made through a process which bonds and laminates items together and turns them into workable panels.
People can give their wooden items to the project based at Thornham Marina, Emsworth, Hampshire.
The project is one of 12 Arts Council-funded public art commissions taking shape across the UK to celebrate the London 2012 Cultural Olympiad.