Southampton biomass power station 'would waste energy'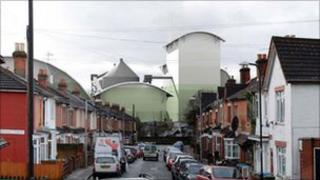 A giant £300m wood-fired power station planned for Southampton would not achieve its green potential, an energy expert has said.
Dr Patrick James, of the University of Southampton, said waste heat from the electricity-generating biomass plant could be used more efficiently.
Homes and offices already make use of a district heat network nearby.
Helius Energy said it had no plans to link the plant to the network, but was looking at ways to use the waste heat.
The developer wants to build the 20-acre (eight-hectare) power station in Southampton docks, near Millbrook Railway station.
Overshadow homes
The 100 mega watt plant would have a 100m (330ft) chimney and generate electricity for 200,000 homes.
Residents living in nearby streets are worried the plant and its chimney will overshadow their homes and affect property values.
Dr James, of the university's School of Civil Engineering and the Environment, said it would it would be "rather disappointing" not to link the waste heat to the existing network.
"Surely there would be an opportunity to use the energy which otherwise would be wasted," he said.
"Otherwise it's hard to see why there is a compelling case to put it in Southampton docks rather than burning the biomass at it's point of production, if that is in the UK."
He also said a plant reliant on imported biomass faced the possibility of being affected by worldwide wood prices.
On Saturday, more than 100 people took part in a protest alongside the proposed site, 125m (410ft) from homes in Freemantle and Millbrook.
Helius Energy says the "green" biomass plant will save at least 76% of greenhouse gas emissions against a similar fossil fuel plant.
'Reduce height'
It said the Southampton docks site was its preferred location in the region, because most of the wood would be imported by sea from Europe, the Americas or Scotland.
The docks also has existing high voltage connections to the electricity network, it added, and about 40 permanent full-time jobs would be created.
The firm has also announced it is now working to reduce the size of the buildings so it can "reduce the visual impact".
The announcement comes as an ongoing consultation with residents is under way. People have until 21 April to comment on the plans.
Last week, leaders at Conservative-run Southampton City Council also came out against the scheme and Dr Alan Whitehead, Labour MP for Southampton Test, said the location and size made the proposals "unworkable".
The final decision on the application will be made by central government's Infrastructure Planning Commission, not the city council.
If approved, construction would begin in 2012.