Green MEP calls Southampton biomass plant a "nightmare"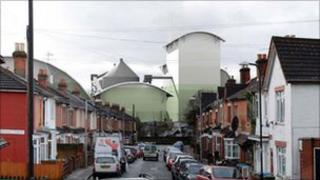 A Green Party MEP has described a £300m biomass power station planned for Southampton as a "nightmare".
Developer Helius Energy, wants to build the 100 mega watt wood-fired plant at the city's Western Docks.
Keith Taylor, MEP for South East England, said air quality would fall and challenged claims of biomass being low-carbon energy.
The firm has said fuel would be "sustainably sourced" and the impact on air quality would be "negligible".
Most of the wood to be burnt in the power station would be shipped from Europe, the Americas or Scotland.
Less carbon claim
Speaking before a visit to the proposed site, Mr Taylor said: "It's visually intrusive, overlooking thousands of homes.
"It's going to increase transport congestion and have potentially adverse effects on human health, I think it's a bit of a nightmare frankly."
"Biomass is not the answer to Southampton's power needs.
"Wind turbine farms and tidal energy - those are genuinely low carbon and the kind of energy resources we need to tap."
Helius Energy says the plant would produce 720,000 tonnes less carbon each year than a similar sized coal-fired station.
It says there would be no more than four lorry deliveries an hour which would not travel through residential areas.
Leaders at Conservative-run Southampton City Council have also come out against the scheme and Dr Alan Whitehead, Labour MP for Southampton Test, said the location and size made the proposals "unworkable".
Residents in the nearby Freemantle and Millbrook areas have held protests against the plant which would have a 100m (330ft) chimney and be located 125m (410ft) from homes.
The firm has announced it is now working to reduce the size of the buildings so it can "reduce the visual impact".
People have until 21 April to comment on the plans.