Checks after 87 WWII bombs washed up on Calshot beach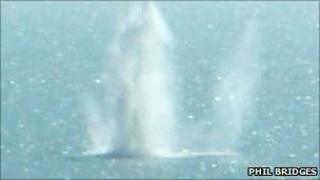 Bomb disposal experts have returned to check whether any more unexploded World War II bombs had washed up after 87 were found this week.
The mortars were exposed on Calshot beach in Hampshire by a combination of extremely low tides and high atmospheric pressure.
A Royal Navy disposal team has spent the past two days carrying out controlled explosions on the devices.
The team returned to the beach earlier but so far nothing has been found.
'Endurance task'
The 87 mortars, measuring about 4ins by 20ins (10cm by 50cm) were dealt with by a five-man team bomb disposal team from the Royal Navy's Southern Diving Unit 2.
The devices were stacked 300m (980ft) offshore at low tide, marked, and then destroyed at high tide.
A 1,000m (3,280ft) exclusion zone was set up around the site, between the coastwatch tower and the car park.
Royal Navy bomb disposal expert Lt Cdr Al Nekrews said: "It's quite an unusual amount and scale of ordnance.
"We will continue to search until we are 100% sure it is clear - it's a bit of an endurance task."