New health scheme aims to ease rheumatoid arthritis with exercise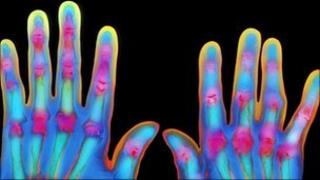 A new initiative is getting rheumatoid arthritis sufferers moving - in some unlikely ways.
Many arthritis sufferers fear exercise will make their joints more painful, even though experts say it will help their condition.
In the first NHS organised scheme of its kind in the UK, Queen Alexandra Hospital in Portsmouth has piloted exercise classes for people with arthritis.
The hospital offered 10 types of therapy, ranging from Tai Chi to water exercises.
The Portsmouth Hospitals NHS Trust has hailed the pilot, called Ten out of Ten, as a "success".
It aimed to strengthen the bodies of people with arthritis, maintaining their quality of life and keeping them out of hospital.
Every year in England alone 26,000 more people are diagnosed with rheumatoid arthritis.
No extra funding
They suffer pain in their joints which restricts movement and affects their quality of life.
Arthritis sufferer Alison Snape said: "When I get a flare up, that's when it throws you out. Because you really can't do anything".
Dr Claire Jeffries, Solent Healthcare's physiotherapy manager, says the pain "ebbs and flows" but the benefits of exercise for arthritis are clear.
However, one difficulty the programme could face is a lack of money.
The pilot was co-ordinated by Portsmouth Hospitals NHS Trust and Solent Healthcare, with UCB Pharma Ltd.
But this was carried out without extra funding and there is no money available for patients to maintain their new fitness levels.
Private gyms and sports centres are being encouraged to offer discounted rates to people with rheumatoid arthritis, but these cannot be subsidised.
A Portsmouth gym has expressed interest in helping the project and Dr Jeffries said she remained optimistic.
Dr Jeffries told the exercise group that, over the past four years, studies have shown strenuous exercise strengthens the surrounding muscles, without weakening the bone.
National roll out
She said her patients commonly "lacked the confidence to perhaps push themselves a little bit harder".
Rick Teasdale, one of the arthritis sufferers, said he agreed.
He said: "You're a bit tentative about what you should do and what you shouldn't do so it's given me a good insight into what I might be able to try."
Sixteen of Queen Alexandra's rheumatoid arthritis patients were selected for the 10-week pilot.
For Colin Beevor, matron and service manager at the hospital, the trial encouraged patients to take more exercise and taught them what would suit different phases of the disease.
He has received positive feedback from patients and the hospital is keen to roll out the trial across England.
The Portsmouth hospital also intends to repeat the programme about three or four times a year for arthritis patients.
For those with rheumatoid arthritis, the benefits of Portsmouth's programme have gone beyond the purely physical.
Alison Snape, who described her arthritis as bad, said: "You're miserable, because you can't do the most simple things".
But at the exercise class she said: "I've enjoyed this and we've had a bit of a giggle".