Calshot tug boat moves to heritage site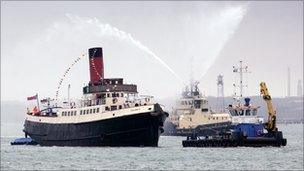 Veteran tug boat Calshot has sailed on its last voyage on the Solent to its new home in Trafalgar Dock.
After restoration, the 82-year-old boat will become the centre-piece of the planned £8m Aeronautica museum.
In its heyday the tug manoeuvred grand liners, such as the Queen Mary, Queen Elizabeth, and Titanic's sister ship Olympic, in and out of Southampton.
As a luxury tender it ferried the famous from anchored ships, including Winston Churchill and Elizabeth Taylor.
The heritage attraction, due to open in 2015, will house historic aircraft and ships linked to the city.
Project officer Alan Jones said: "Calshot will be a centre-piece to a new heritage centre which will portray Southampton's aviation and maritime legacy.
"The tug will represent the great liner era of the city."
Built in Woolston, Southampton, and launched in 1929, the 44m (146ft) boat also played a key role during World War II.
Based on the Clyde, the boat, which can carry 556 passengers, acted as a ferry for the servicemen onboard The Queen Mary and Queen Elizabeth.
The boat is included in the National Historic Fleet, a database of vessels with potential UK significance.
Related Internet Links
The BBC is not responsible for the content of external sites.