Hampshire man's U2 story told in Killing Bono film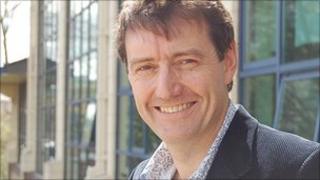 "They were the cool kids, I just didn't fit in."
Hampshire-based musician Ivan McCormick recalls his teenage years when he nearly became a member of U2.
In 1976 he joined a band set up by a school-mate, 14-year-old Larry Mullen.
"I was really only in the band as I had a better guitar than Dave [The Edge]," said the 48-year-old, who now lives in Hook.
Mr McCormick's 'what might have been' tale is the subject of a major new comedy film, Killing Bono.
'Too young'
After a couple of months in the band, then called Feedback, Adam Clayton phoned Mr McCormick to say they had a gig in a pub - but as Ivan was so young, he would have to leave the band.
"I was very upset and cried my eyes out. Then I realised they were too young to be in a pub as well, they were just letting me down in a nice way," he said.
He went on to form synth-pop band Shook Up! with his brother Neil.
Despite moving to London and signing a record deal, their career failed to ignite and they looked on as their old school friends become one of the world's biggest rock bands.
"It never really happened for us - we were very arrogant and we had a succession of really bad luck."
Now living in Hampshire, Ivan has spent much of the past seven years converting a barn building near Hook while composing music for TV and playing guitar for party band 29 Fingers. Ironically, U2 covers are among their set list.
Their old school pals may have gone on to superstardom, but Ivan McCormick does not regard himself as a Pete Best figure - the "fifth Beatle".
"I don't think I would have fitted in. It wouldn't have been U2 if I'd been in the band.
"If there was another guitar in there clogging up the rhythm, it wouldn't have sounded the same," he added.
'Feel privileged'
He remains friends with the band and their families.
"It's never been tough, I feel privileged to have been there at the start," he said.
The film is a "true-ish" adaption of the story. In the screenplay, Neil hid the fact U2 actually wanted Ivan to be in their band. "If that was true, that would be pretty bad," said Ivan.
The movie is based on Ivan's autobiography, I Was Bono's Doppelganger, and features the late Pete Postlethwaite in his last big screen performance prior to his death in January.
The brothers make a fleeting cameo appearance as two men in a bar watching their young selves performing.
Ivan said: "It's part of my story and I've enjoyed telling it. And the fact someone's made a film out of it, that's really exciting."
Killing Bono is currently on general release