Anniversary silence for killed Southampton firemen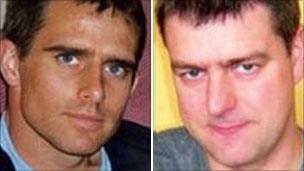 A two-minute silence has been observed at every fire station in Hampshire to mark one year since the deaths of two firemen in a blaze at a tower block.
James Shears, 35 and Alan Bannon, 38, died tackling the fire at Shirley Towers, Southampton, on 6 April 2010.
The Health and Safety Executive, police and fire service are all investigating. The Fire Brigades Union (FBU) is also conducting an inquiry.
Meanwhile it emerged UK fire service practices were changed after the blaze.
The fire that killed the two men started in the ninth floor of the 15-storey tower block in Church Street, on the evening of 6 April 2010 - when a curtain left draped over a lightbulb caught fire.
Mr Bannon was pronounced dead at the scene within hours and Mr Shears died in hospital shortly afterwards.
All residents in the flats were rescued.
Post-mortem tests showed Mr Shears, of Poole, Dorset, and Mr Bannon, of Bitterne, Southampton, died of exposure to excessive heat.
Both men, who had young families, served with Red Watch at St Mary's Fire Station.
Mr Bannon's widow, Charlotte, paid tribute to her husband one year on, and at the same time thanked his colleagues or "brothers" for their support over the past year.
"It doesn't seem possible that it has been a year since we last saw Alan's smile, heard his laugh and Abi felt his arms around her in a hug," she said.
"Every time I look at her I am reminded of what a wonderful, devoted and loving father he was and am saddened to think he will miss seeing our brave little girl grow up."
Mr Shears's widow, Carla, said: "One year on, the pain of losing Jim is still raw. I miss his smile, his funny humour and his devotion to his friends and family.
"I am not sure how we have managed to get through the past year. It has been incredibly hard. My friends and family have made it possible.
"As always, my deepest respect and love goes out to all firefighters, especially those of St Mary's Red Watch. I wish them all to be safe."
The firemen's colleagues added: "We will never be able to replace 'Bert' and 'Britney'.
"They each brought very different things to Red Watch and we miss them a lot.
"But what they did both bring was bravery and courage and we will always be proud of them and think about the lives they saved on that tragic night."
The two-minute silence was held at 1100 BST and fire service flags were also flown at half-mast across the county.
As the anniversary was marked, it emerged the fire has led to firefighting practices and procedures being changed across the UK.
The number of fire engines that respond to fires in high-rise buildings has been increased and there have been changes to equipment and tactics.
Hampshire Fire and Rescue Service Chief Officer John Bonney said: "The events of that night have helped change procedures and practices right across the United Kingdom.
"So in once sense the legacy is that we will improve our service as a result of that."
The city council said Shirley Towers would fully reopen again in June.
People were moved out of 12 flats above and below the fire over structural concerns. Most were permanently re-housed elsewhere.
Seven properties have since been refurbished and have people living in them again.
The council spokesman said the building was structurally safe and scaffolding would come down in April.
Related Internet Links
The BBC is not responsible for the content of external sites.