Southampton visit for HMS Astute nuclear submarine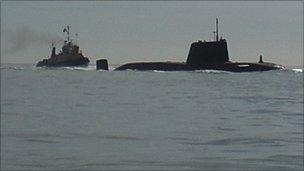 One of the Royal Navy's newest nuclear-powered submarines is making a five-day official visit to Southampton.
The 97m-long (318ft) HMS Astute is described as the stealthiest ever built in the UK.
Sea scouts, civic dignitaries and local schools will be visiting the £1bn boat while it is berthed at Eastern Docks.
Cdr Iain Breckenridge said: "I am sure they will be impressed with the capabilities of these formidable vessels."
Southampton City Council has put an emergency response plan in place for the visit, required when any nuclear submarine docks in a UK port. It includes locating potassium iodate tablets at 14 key sites.
The 39,000 acoustic panels which cover HMS Astute's surface mask its sonar signature, meaning it can go undetected at sea and can even listen in to mobile phone conversations.
Commissioned in August 2010, it ran aground on 22 October and had to be towed free after becoming stuck on a shingle bank off the Isle of Skye for about 10 hours.
It was damaged during the rescue operation in a collision with a coastguard tug which had been sent to free it.
The naval officer in charge, Cdr Andy Coles, 47, was relieved of his command the following month.
HMS Astute will leave Southampton on Sunday at 1515 BST.
Related Internet Links
The BBC is not responsible for the content of external sites.