Southampton's 'Skinny Steve' skeleton supports charity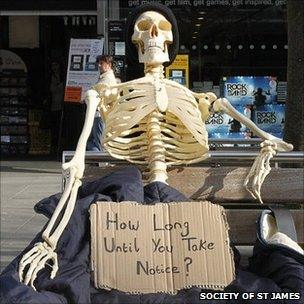 A charity has been placing a skeleton in a sleeping bag around Southampton to highlight the issue of homelessness.
"Skinny Steve" is the brainchild of local student Joe Miller who developed the guerrilla advertising campaign as part of his university degree.
The model skeleton has a sign saying "how long until you take notice?" and an accompanying Facebook page.
Sam Perry of the Society of St James said it was "bringing a new supporter base" to the homelessness charity.
Mr Perry worked with Mr Miller to create a fictional life story of Skinny Steve.
He said: "It is based on a number of different people's life stories we have typically heard."
The model has been placed in busy shopping areas throughout the city over several months.
Mr Perry said reaction to the model from passers-by had been "really positive".
He said: "We're trying to raise awareness that homelessness can happen to anyone.
"There are organisations out there which can help but in the present economic climate, those groups need support."
Related Internet Links
The BBC is not responsible for the content of external sites.