Family and pets rescued from Southampton flat fire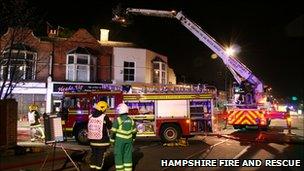 Four people, including a child, have been treated in hospital after being rescued from a fire in Southampton.
Hampshire Fire and Rescue Service said crews were called to the fire in Lower Mortimer Road, Itchen, when the alarm was raised after midnight.
Two dogs, believed to be family pets, were also rescued by firefighters from the first-floor flat.
One of the four casualties was a member of the public who tried to rescue the flat's occupants.
All four were taken to hospital after breathing in smoke, but they were not thought to be seriously hurt.
The cause of the fire is being investigated.