DNA links three Hampshire 1980s sex cases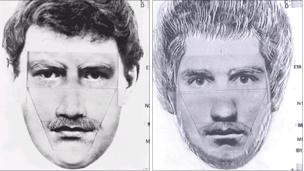 Police have used new DNA techniques to link three sex attacks in Hampshire in the 1980s to the same suspect.
Three women, all 18, were attacked as they walked home in Whitchurch, Dummer and Winchester, between 1982 and 1984.
Two of the women provided an e-fit of the suspect at the time of the attacks but no-one has ever been caught.
The cases have been linked through DNA evidence by detectives looking into stranger rape cases in Hampshire dating back to 1980.
In the first attack on 27 October 1982, an 18-year-old woman had been out with a friend in the White Hart pub in Whitchurch.
The teenager's friend left on a bus and as she walked home down an alleyway off Winchester Street a man put his hand over her mouth, pushed her over and sexually assaulted her.
The woman described the offender as a white man, about 5ft 7ins, with medium blond hair that was swept back, with a moustache and beard.
On 23 December 1982, another 18-year-old woman got off the bus in Dummer when a man ran towards her and walked her into a large blue estate car.
After a short drive he made her get out and sexually assaulted her.
The woman did not see the man because he kept her head covered but she stated he had rough hands, smelled strongly of farm animals and his car had a dark PVC interior.
On 15 June 1984, a third 18-year-old woman had been out with a friend in Winchester.
They were walking home and parted company and as the teenager walked down Dawn Gardens a man put his hand over her mouth and pulled her onto the driveway of a large house.
She was seriously sexually assaulted and the man ran off.
Det Insp Julian Venner said: "Using advances in DNA technology we are now able to forensically link all three attacks to the same suspect.
"Unfortunately this suspect is not currently on the national DNA database.
"We are therefore appealing to the public to examine all three cases and if you think you know who this individual is or can provide any additional information, please contact us."
Related Internet Links
The BBC is not responsible for the content of external sites.