Portsmouth hospital NHS cash 'destined for tax haven'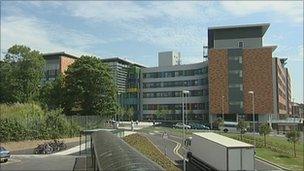 A leading high street bank set up a company to divert millions of pounds of NHS money into an offshore "tax haven", a BBC investigation has found.
HSBC used a legal tax loophole to handle the profits from private finance initiative schemes such as the Queen Alexandra Hospital in Portsmouth.
Over the next 30 years money will go to Guernsey-based investment firm HICL. It said it was subject to UK tax laws.
Unison called the move "unjust" at a time when the hospital had axed jobs.
In six months last year the company - which was set up by HSBC - made more than £38m profit from its 33 PFI schemes and paid £100,000 in UK tax.
That equates to less than half of 1% of the profits.
HICL said the profits did not stay in Guernsey and had been paid to mostly UK shareholders so far.
HSBC said it set up the scheme to give people a chance to invest in PFI projects.
Mike Wilson, of Unison, said: "It's a huge amount of money and it's money that is coming from the tax payer, so it's safe profit.
"This money is going to bankers who caused the financial crisis who are now in offshore tax havens.
"They are not paying corporation tax on the profits they are making - that is fundamentally unjust when patients are losing services and my members are losing their jobs."
The firm - previously known as HSBC Infrastructure Company Limited - bought an 89.9% stake in the Queen Alexandra Hospital (QAH) project last year.
The hospital has cut 700 jobs in 18 months.
Jock McLees, from Portsmouth LINK, which speaks for patients, said: "It's immoral, it's wrong but nobody seems to get it.
"Nobody seems to be able to do anything about it and we're coming to the conclusion I think that some of these financial institutions and big business are more powerful than government.
"They seem to be out of control."
The hospital was built under a Private Finance Initiative (PFI) - which provided millions of pounds of private money for the construction.
Under the repayment terms the hospital pays £43m a year for 30 years to a company in the UK, The Hospital Company.
That company then pays off the debt - like a mortgage - but also pays for maintenance, repairs and facilities at the hospital.
The BBC has discovered that any profit left is then sent out of the country, via two firms in Luxembourg, to HICL based in Guernsey.
Tax specialist Nick Parker said: "They are obviously trying to minimise the tax that they pay, but they are clearly paying UK tax, on their UK projects.
"The accounts to 30 September 2010 indicate there was a £2.5m tax charge, however when you actually read the notes only £100,000 of that was actually paid across to the UK authorities."
HICL said that so far no money from the QAH deal had gone to its operation in Guernsey.
But documents seen by the BBC suggest that over the next 30 years nearly £50m could be paid out in dividends from the QAH project.
HICL said profits from all its projects had so far gone to mostly UK shareholders including local authority pension funds and small investors.
It said the £100,000 tax payment was "low because profits are offset against previously incurred losses in the UK assets".
A spokesman added: "Our UK assets such as our stake in the QAH are subject to UK taxation on the same basis as any company.
"Without the equity investment and debt finance provided by the private sector the state-of-the-art QA hospital, which serves a significant number of people in and around Portsmouth, would never have been built.
"As a listed public company HICL publishes all its trading and financial information."
HSBC said it did not set up the scheme to divert funds from the NHS but to give people a chance to invest in PFI projects.
It said it owned no shares in HICL and did not take a profit from it.
The government has previously pledged to raise billions of pounds by clamping down on "morally indefensible" tax avoidance.
A Department of Health spokesperson said: "The NHS must continue to find savings in big and small ways, including within PFI contracts.
"With this objective in mind, the treasury published guidance in January about making savings in operational PFI contracts and has since set up a pilot project to see how this might work in practice."
Related Internet Links
The BBC is not responsible for the content of external sites.