Eton boy skis to North Pole in four days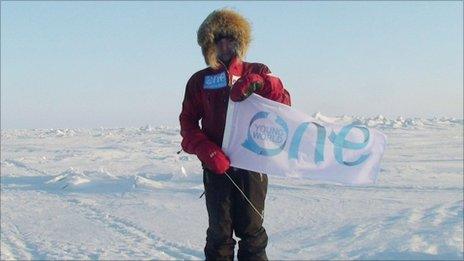 A 16-year-old boy has managed to ski to the North Pole in four days - finishing the trip a week ahead of schedule.
Parker Liautaud, who is a pupil at Eton College in Berkshire, is one of the youngest people to complete the challenge.
The teenager finished the 112km (70-mile) trek, which was expected to last up to two weeks, in 4 days, 2 hours and 47 minutes last week.
He was accompanied by teammate and experienced explorer Doug Stoup.
Their trip had been delayed by three days because of adverse weather conditions at the site of the Borneo Ice Airfield.
The same setback caused Prince Harry's polar expedition with four wounded servicemen to be put on hold.
Harry, 26, returned to the UK on Saturday after spending four days in the Arctic wilderness with his Walking With The Wounded team.
Parker and Mr Stoup are now recovering in Longyearbyen on the Norwegian island of Spitsbergen.
Throughout his journey, the schoolboy and environmental campaigner undertook scientific research for the European Space Agency and the University of Alberta.
Parker made 100 snow thickness measurements every day in accordance with the Pole Track 2005 updated protocol, which will now be used in long and short-term climate change research.
The schoolboy, who is half-French, half-American, said: "It was great. I'm really thrilled at the outcome.
"We were very well-prepared, and that's why we blitzed through it so fast."
Last year, Parker's dream of becoming the youngest person to ski to the North Pole was scuppered when adverse weather conditions forced him to abort the challenge when he was 24km (15 miles) from the pole.
Related Internet Links
The BBC is not responsible for the content of external sites.