University of Southampton to charge £9,000 tuition fees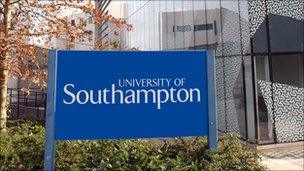 The University of Southampton has announced plans to charge the maximum £9,000 tuition fees from 2012.
The university said a third of students will be eligible for reduced fees through bursaries, including a discount scheme for local undergraduates.
While about 20% of students, like those from lower income households, may be able to receive a fee waiver cutting the cost to £6,000 a year, it claimed.
The proposed fees are subject to approval by the Office for Fair Access.
A number of other universities have already announced they intend to charge the full £9,000, while a BBC survey has found nearly half of all English universities plan to charge the highest figure.
University of Southampton Vice-Chancellor Professor Don Nutbeam said: "We want to ensure that the University of Southampton maintains its leading position as a place of opportunity for talented students regardless of their background.
"We recognise the genuine concerns about debt expressed by prospective students, especially those from households with lower income, and are offering some of the most generous fee waivers in the sector.
"We will offer our students an outstanding education in a world-class research university."
University fees declared so far are listed in the table below. Please send further updates to educationnews@bbc.co.uk
Related Internet Links
The BBC is not responsible for the content of external sites.