Titanic play recreates ship's final hours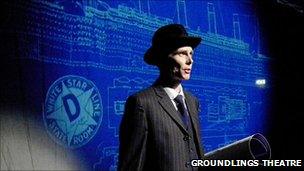 A Portsmouth theatre company is re-enacting the final hours of RMS Titanic to mark the 99th anniversary of the ill-fated liner sinking.
Groundlings Theatre is staging the interactive event at its Kent Road theatre on Thursday evening.
Audience members are being given "boarding cards" to take on genuine Titanic passengers' identities.
Writer Richard Stride said the audience would "get a sense of the tragedy".
He said he was inspired to develop the play having grown up hearing stories from his grandmother whose uncle died when the liner went down.
The project has taken more than 18 months to research with the biography, movements and fate of every passenger and crew member painstakingly investigated.
The play is being staged in close to real time on the anniversary of the sinking, with the five hour time difference from the north Atlantic taken into account.
Audience members will have the choice of becoming either first or third class passengers.
They will be served food which was on the actual menu on the Titanic's last night.
Those at the captain's table have saute of chicken and Waldorf pudding in pristine comfort. Meanwhile those below deck get rice soup and roast beef.
Forty actors will play out the night's dramas around them and at the end of the performance, everybody will discover the fates of their alter egos.
Mr Stride also plays the part of Thomas Andrews, the ship's designer.
He said: "It's more real and emotional if it is a real person right in font of you, and it touches you more. Hopefully we'll get that feeling across."
The theatre is planning to develop the idea further for the 100th anniversary of Titanic sinking next year.
Related Internet Links
The BBC is not responsible for the content of external sites.