Plucky fox cub's Fareham storm drain rescue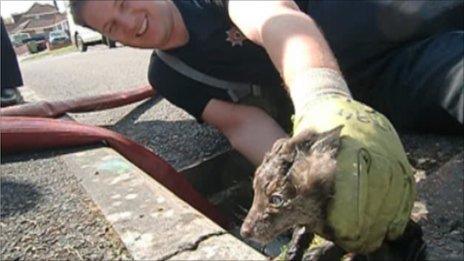 A plucky fox cub which fell down a storm drain gave Hampshire rescuers the run-around before finally creeping out from the dark.
Residents of Heathfield, Fareham, alerted firefighters after fearing at first a puppy had become trapped when they heard barking on Monday.
Crews tried to flush the cub out after an initial rescue failed but it was not until later that it was caught.
An RSPCA inspector examined the cub before it was taken to a shelter.
Rescuer Buster Brown attempted to reach the cub but could not coax it out and went to get specialist equipment.
"Upon my return I was unable to reach the cub, and from its barking it appeared to have moved further up the road away from the open end of the drain system," he said.
Mr Brown, assisted by firefighters, then tried to flood the drain in a bid to flush the cub along and to catch it in a net. This approach failed to catch the cub.
Watch manager Ian Cambridge said: "Just as the hose was pulled out of the drain the little fox cub's head appeared from the very drain hole we had pumped the water into.
"One of the firefighters quickly grabbed the animal and it was carefully placed into a waiting cage."
The cub was taken to the Stubbington Ark animal shelter to recover.
Related Internet Links
The BBC is not responsible for the content of external sites.