Isle of Wight Festival to be screened live in 3D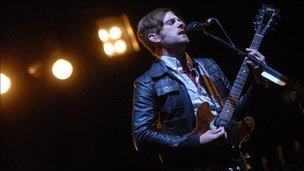 The Isle of Wight Festival is to be the first UK music festival to be broadcast live in 3D, organisers have announced.
The three-day event, which is celebrating its 10th anniversary, takes place between 10 and 12 June at Seaclose Park, Newport.
Headline acts at the festival include the Kings of Leon, Foo Fighters, Pulp and Kasabian.
Bestival, which will be held on the island in September, will also be broadcast in 3D on Sky.
Organisers of the Isle of Wight Festival have submitted an application to increase capacity to 90,000 for the event, which will be discussed by licensing chiefs on 17 May.
It is subject to a public consultation.
Festival promoter John Giddings, of Solo Music Agency, said: "It is incredibly exciting for our 10th anniversary to be at the forefront of television broadcasting in the 21st Century.
"And those unlucky people who missed out on buying a ticket will now have the opportunity to see it in their living rooms more realistically than a festival has ever been seen before - bring it on."
Related Internet Links
The BBC is not responsible for the content of external sites.