Southampton countdown to Easter passion play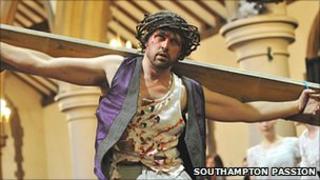 Final rehearsals are taking place for a re-enactment of the Easter story in Southampton's Guildhall Square.
The city's Good Friday passion play is being staged by volunteers from various churches throughout the city.
More than 70 actors, a dance team and a 100-strong choir will tell the story of the events surrounding Jesus' crucifixion.
Neil Maddock who plays the lead role said: "It's a real privilege for me as a man of faith to portray Jesus."
Organisers are hoping to attract the Guildhall Square's capacity of 8,000 to 10,000 people.
Inspired by outdoor passion plays in Manchester in 2006 and Winchester in 2008, Mr Maddock organised the production and wrote the script for the play to be performed on two stages in Southampton's new cultural quarter.
'Personal take'
The two-hour musical production features the Last Supper, crucifixion and resurrection.
Mr Maddock said: "The purpose is to put Jesus back at the heart of Easter, there are whole generations growing up who don't know the basic Easter story."
"As an actor its challenging because people have their own views of Jesus and what he did, but I'll seek to portray something really personal in the role," he added.
Dress rehearsals and stage building will take place in the square before the performance on Good Friday at 1930 BST.
The cast have already recorded a CD of the music which was specially written for the play by musical director, Nathan Hattersley.