Former Southsea castle entrance opens as community shop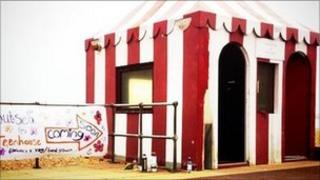 A former entrance kiosk at Southsea Castle, Portsmouth, has moved to a new role as a beach front community shop.
The red and white pavilion was formerly the admissions kiosk for visitors to the Tudor castle.
Founder Sue Stokes said: "It's a passion I've had for a while. It's going to bring all sorts of people together."
The Southsea Greenhouse will be owned by the co-operative's members and run by volunteers seven days a week.
Local produce
The 96 sq ft (9 sq m) stripy building will stock local produce including flowers, plants and vegetables and will also sell recycled goods and work by local artists.
Supported by the community and local companies, it has taken three years to get the shop up and running.
Ms Stokes hopes to run the shop using alternative energy and offer a delivery service.
"It'll be like a market stall, but in an unusual building," she said.
A St George's Day themed opening celebration will be held on Saturday.