Councils threaten to sue government for 'academy tax'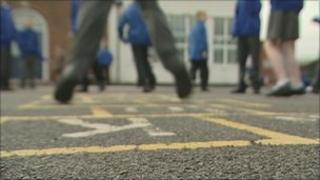 Portsmouth and Isle of Wight councils are threatening to take the government to court for using money from state schools to fund new academies.
They are among 14 local authorities backing potential court action by the Local Government Association, the BBC has found.
Leader of Portsmouth council Gerald Vernon-Jackson said local schools were losing almost £500,000 this year.
He said Portsmouth's only academy gets "double the amount of money per child".
Academy schools are independent from the local authority and manage their own finances.
Their funding comes directly from the government.
Local authorities are seeing a reduction in money to reflect the fact they are controlling fewer schools.
But Portsmouth and Isle of Wight are among those objecting that the money lost is the same for all councils, regardless of how many academies are in the area.
Portsmouth, with only one academy, the Charter School, is losing the same amount as Southampton, which has three.
At present Isle of Wight has no academies but two are opening in September.
'Not good value'
Mr Vernon-Jackson described this as an "academy tax" which was top-slicing money from councils to pay for academies. He said it meant less money for children in state schools.
The Liberal Democrat-led Portsmouth and Conservative-led Isle of Wight councils are challenging their own parties in government on the issue.
But Mr Vernon-Jackson said this was not party political.
He said: "Our job in councils is to try to defend local people from any decision from anybody that we think is wrong."
A Department for Education spokesman said: "The double funding of local authorities and academies for the same services is confusing and frankly not good value for the taxpayer.
"This issue will only become more pronounced as the number of academies opening continues to accelerate. The bottom line is that greater autonomy for schools must be reflected in the funding they receive."
He added: "We will consult very shortly on bringing in a new funding formula actually based on the needs of pupils."