Hampshire fire service plans to axe 30 jobs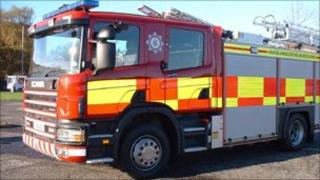 Hampshire fire service is to cut about 30 jobs over the next four years as it aims to save £9m.
Seven control room operators out of 35 face being axed by the end of March next year.
The service has already said it is losing 40 of its 800 firefighters by 2013 through natural turnover. The service said it needs to make savings.
The Fire Brigades Union (FBU) said it would consider industrial action over any compulsory redundancies.
The service said the other 23 roles facing the axe are from "various functions and at different levels".
A 90-day consultation on the plans are under way.
Paul Trew, FBU brigade sectary, said: "The more jobs you chip away, the more that safety is at risk."
Recruitment freeze
He added: "We will be working hard with management to avoid compulsory redundancies.
"We are hoping we will not lose anyone but cannot rule out industrial action."
Chief fire officer John Bonney said: "We were aware of potential cuts on the horizon so we started our financial planning early and put a recruitment freeze in place over a year ago.
"As a result we will be able to minimise the number of redundancies through the vacancies and through the creation of some new posts to meet new demands.
"We will to continue to help, support and listen to our teams and our co-workers to get through what will be a difficult time."
Earlier this month the service announced it is to stop sending crews to automatic fire alarms (AFA) in a bid to cut costs.
A safety officer will be sent alone to AFAs as part of the trial in order to counter the "significant drain on resources" caused by false alarms.
Previously a fire engine and crew would be sent to every AFA, with 3,500 false alarms being experienced across the county each year.