Ventnor Winter Gardens multi-million revamp unveiled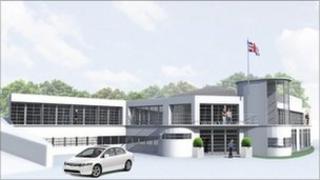 A planned multi-million pound revamp of Ventnor Winter Gardens has been unveiled by an Isle of Wight chef.
Plans for the art deco building include two restaurants, 20 hotel rooms, and a multi-use cinema and theatre. It will create up to 40 jobs.
Robert Thompson, who has one Michelin star, said: "It is important that the Winter Gardens is not only preserved but enhanced."
The building closed after 75 years on 31 January with the loss of 15 jobs.
Mr Thompson has been named preferred bidder for the cream and steel seaside venue following a tender process.
The council marketed the subsidised theatre and music venue after withdrawing funding last year.
Subject to planning permission, the entire renovation is expected to be completed by 2012.
It was built by the council in 1936 to accommodate 700 seated people and up to 1,000 dancers on a sprung dance floor.