Protesters hand in Southampton biomass plant petition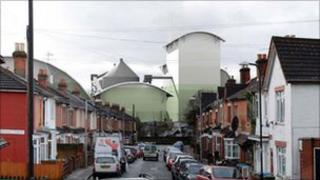 Campaigners against plans for a £300m biomass power station in Southampton have given the council 150 objection letters and a 3,602-signature petition.
Developer Helius Energy wants to build the 100 mega watt wood-fired plant at the city's Western Docks.
The firm has said fuel would be "sustainably sourced" and the impact on air quality would be "negligible".
About 20 people gathered outside the council offices earlier for a protest against the plans.
It was held on the day Helius had set as a deadline for residents to submit their comments to the firm before a formal application is submitted.
A decision on the plans will have to be taken the government.
The No Southampton Biomass group has challenged claims of biomass being low-carbon energy and says the air quality in the city would fall.
Campaigners also say the plant would be "visually intrusive, overlooking thousands of homes" and would increase transport congestion.
Wood shipped in
Helius Energy claims it will generate enough power for 200,000 homes.
Most of the wood to be burnt in the power station would be shipped from Europe, the Americas or Scotland.
The firm says the plant would produce 720,000 tonnes less carbon each year than a similar sized coal-fired station.
It says there would be no more than four lorry deliveries an hour which would not travel through residential areas.
Keith Taylor, Green MEP for South East England, has dubbed the plan a "nightmare".
Leaders at Conservative-run Southampton City Council have also come out against the scheme and Dr Alan Whitehead, Labour MP for Southampton Test, said the location and size made the proposals "unworkable".
Residents in the nearby Freemantle and Millbrook areas have held protests against the plant which would have a 100m (330ft) chimney and be located 125m (410ft) from homes.
The firm has announced it is now working to reduce the size of the buildings so it can "reduce the visual impact".