Gosport woman cleared of husband's penthouse murder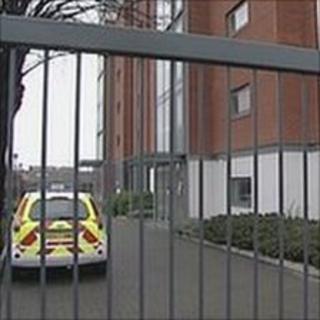 A woman who stabbed her husband to death in their luxury penthouse flat after rowing over their buy-to-let empire has been cleared of murder.
Jennifer Parkinson, 65, wept as jurors unanimously found her not guilty of murdering husband Michael, 63, at their home in Gosport, Hampshire, in 2010.
She said she never intended to seriously hurt him but admitted manslaughter at Winchester Crown Court.
Judge Guy Boney QC remanded Parkinson in custody to be sentenced on 4 May.
Jurors found Parkinson not guilty of murdering the retired head teacher after five hours of deliberations.
She had denied murder but admitted manslaughter at the start of her trial.
Mr Parkinson was stabbed three times at the £330,000 flat in Sanderling Lodge, Rope Quays, Gosport, on 22 March 2010.
The trial heard the couple had had a drunken row when Mr Parkinson blamed the defendant for the pair buying about 20 properties in Rutland, which lost them money.
Parkinson told the court this had upset her as it went back on a promise not to blame each other.
Head lock
The couple had been losing £4,000 a month due to interest rates and flooding and had to live in a motorhome for a time.
But their financial situation had improved, the court heard, and they began making £2,000 profit a month.
Parkinson told the court the drunken violent row had involved her biting him on the arm and him putting her in a head lock.
She said she had brandished the knife to try to "stop him in his tracks" but did not act out of self-defence.
The most severe stab wound entered Mr Parkinson's body under his left arm, fracturing a rib, puncturing his lung and damaging his aorta, causing "catastrophic" blood loss from which he died in hospital.
She told jurors: "We loved each other. I was proud of being his wife of 20 years.
"There was no way I wanted him seriously injured or dead. I will miss him for the rest of my life," she said.