Tribute to woman killed in Hampshire post van crash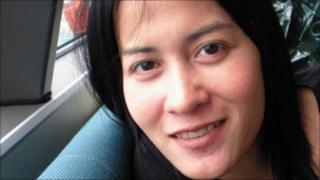 The husband of a pedestrian who died when she was hit by a Royal Mail van as it crashed into a shop in Hampshire has said she will be "dearly missed".
Kulsatree O'Neill, 36, of Troon, Ayrshire, died of multiple injuries after being struck at the Marie Curie Cancer Care shop in Fleet on Tuesday.
Her husband Derek said: "She was full of life in every way and brought happiness to so many."
A 48-year-old man was held on suspicion of causing death by careless driving.
He was later released on bail.
Mr O'Neill said: "She will be dearly missed. Rest in peace my little one."
The crash happened near the junction of Victoria Road.
The driver of the van, who comes from Farnborough, sustained minor injuries and was taken to Frimley Park Hospital.