Young athletes 'pushed to brink', says surgeon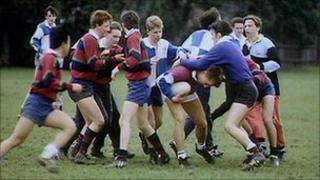 Irresponsible coaches are contributing to an increase in injuries by pushing young athletes "to the brink", an orthopaedic surgeon has said.
Vel Sakthivel, of Southampton General Hospital, is concerned about pressure on under-16s to perform through the pain barrier.
He believes the 2012 London Olympics could make the problem worse.
"We are seeing an increase in the number of sports injuries in children each year," he said.
These ranged from "serious ligament damage and fractures, to strains and sprains, and the pressure applied by coaches is to blame on many occasions", he said.
'Toughen up' culture
He said he wanted to highlight the issue he had seen in his surgery, talking about "patients who come to me and say their coaches have urged them to continue despite complaints of pain".
"Kids are told if they want to make it big they need to put up with the aches, pain and niggling injuries - almost a 'toughen you up' culture - and that is driving many to the brink of serious damage to their bodies."
He encourages parents to be cautious and have realistic expectations.
"The benefits of strenuous sporting activities should be balanced against children's health needs and professional coaches need to be aware of that.
"The best young athletes are those with the right balance and educated mentoring and that is what I urge parents to look for."