Endangered baby black lemur born at Isle of Wight Zoo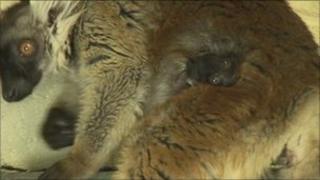 A baby of an endangered species of black lemur has been born at the Isle of Wight Zoo.
The lemur was born last week but keepers did not realise until members of the public spotted the tiny baby clinging to its mother.
The lemur was bred as part of a European Endangered Species Breeding Programme.
Black lemurs are only found wild in north-west Madagascar and are classified as a vulnerable species.
Charlotte Corney, zoo director, said: "She was actually born outside in the enclosure and a couple of members of the public were walking by and they noticed this little tiny thing clinging on to the female.
"So we now have a little baby here who's out and about.
"This one little baby, of course, is a crucial addition to the population, so we're all very, very excited."