Girl bitten by venomous adder snake in New Forest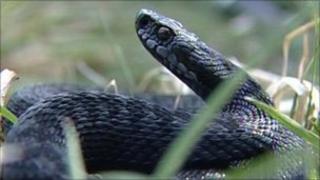 A nine-year-old girl is recovering in hospital after being bitten by what doctors believe was a venomous adder snake in Hampshire's New Forest.
Tyler Butcher was bitten by the poisonous reptile on her foot in Bolderwood on Friday afternoon.
She was taken to Southampton General Hospital where she was given an anti-venom injection and is "recovering well", a hospital spokeswoman said.
The adder is the only venomous snake found naturally in the wild in the UK.
The NHS said about 100 cases of adder bites are reported in the UK every year.
Since records began in 1876 only 14 people have been reported to have died from adder bites - the last in 1975.