Royal Wedding rehearsals at Fareham Royal Navy base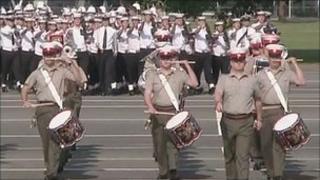 Military personnel taking part in the royal wedding have been rehearsing in Hampshire.
More than 190 Royal Navy and Royal Marine servicemen and women have been training at HMS Collingwood in Fareham.
The Royal Marines Band, Collingwood, will be playing at Parliament Square while Royal Navy volunteers will line the procession route.
Major Jason Burcham said: "We'll have creaking knees and backs, but I wouldn't miss it for the world."
Many of 1,300 servicemen and women along the route between Buckingham Palace and Westminster Abbey will have to stand still for up to 90 minutes.
Warrant Officer Class 1 Paul Barker, in charge of the naval contingent, said: "We make sure the guys have a banana before they do their standstills - it works for athletes, it works for us."
"We build them up slowly. My only concern is if it's very, very hot because of the number of horses in the parade, they may get too close to my young ladies and young men," he added.
Personnel who served with Prince William are among those specially chosen to be closest to the Abbey entrance.
Physical Training Instructor Gavin Rees served on board Portsmouth-based HMS Iron Duke in 2008 when the prince had part of his military training on the ship.
He said: "He was into his 'phys' so he'd turn up for circuits - he was late a few times so I'd make him do a few extra press-ups."
The prince spent five weeks on the Type 23 frigate as it patrolled the North Atlantic.
During his time on board the ship took part in an operation to seize cocaine valued at £40m in the West Indies.