Hampshire walk route opens in tribute to Brenda Parker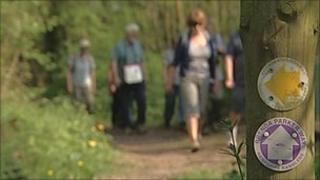 A new 78-mile (125 km) footpath route through Hampshire countryside has opened in tribute to a walking enthusiast who died in 2008.
Brenda Parker was helped maintain footpaths and lobbied for countryside access for more than 30 years.
The Brenda Parker Way runs from Andover to Aldershot.
Hampshire Ramblers Association's Owen Plunkett said: "She was just full of passion, loving wildlife, enjoying meeting people and doing walks."
Right-to-roam
Ms Parker took part in right-to-roam campaigns as well as being involved in planning discussions over the New Forest and South Downs national parks.
She also wrote a series of books about walking in Hampshire.
The location for the Downton Abbey television drama, Highclere Castle, is on the east-to-west walking route.
Hampshire's largest lake, Fleet Pond, the Roman town of Calleva, and Pilot Hill, the county's highest point are other landmarks.
Peter Davis, who designed the walk linking together existing footpath routes, said: "We wanted a permanent memorial for the work Brenda did in the north of the county where she made her home.
"Not many walkers appreciate the work she did when they are out in the countryside."