Eastleigh council's 'violent' list leaked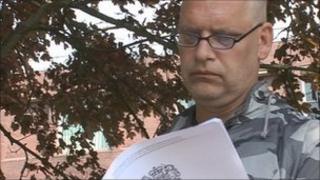 A Hampshire council has begun an investigation after a list of people described as potentially aggressive got into the public domain.
Eastleigh Borough Council said the list was used to help protect the health and safety of its staff.
A photographer who discovered his name was on the list said the information was both inaccurate and out of date.
Matthew Myatt, from Eastleigh, said he had been described as "a violent and potentially dangerous person".
Mr Myatt said the list, which he had been shown after it was emailed along with a password, included addresses and details of people's criminal convictions and mental health.
'Sensitive information'
"Some of the names I knew," he said. "Eastleigh is a small town and you tend to know people - and it was quite obvious that the information clearly wasn't correct on people that I knew of.
"We rely on the Data Protection Act to protect us as individuals, to make sure that other people can't get access to this information, but more importantly that this information is relevant, accurate and up to date."
A council spokesman said: "In keeping with its legal duty under the Health & Safety at Work Act 1974, the council keeps a list of potentially aggressive clients to help ensure the safety of its staff, councillors and contractors.
"The council is extremely disappointed that there has been an alleged breach of confidentiality regarding this list that is kept in a secure location with restricted access.
"The council is carrying a full investigation into this matter."
A spokesman for the Information Commissioner's Office, which deals with data protection in the UK, said local authorities are legally obliged to protect information held about members of the public.
He said: "Information concerning criminal records would be considered to be sensitive personal information, and so any use of this type of information must be fully justified."
The spokesman added that councils must only collect information needed for a specific purpose and make sure it is "relevant and up to date".
Residents can also ask to see what information is being held about them, he said.