Andover custody suit shut over suspected substance leak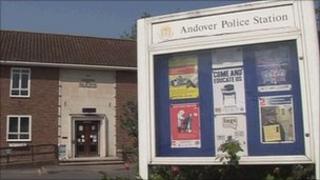 A police station's custody suite has been closed following a suspected leak of a unknown substance.
Officers and detainees at Andover in Hampshire started complaining of headaches and nausea at about 0230 BST.
The station was evacuated with the five detainees transferred to another custody centre.
Everyone involved - including six members of police staff - was examined but nobody required hospital treatment. An investigation is under way.
The affected officers remained on duty.
The cause of the leak, which was contained within the custody unit, is being investigated by engineers.
The unit will remain closed until further notice while the rest of the station will operate as usual.
Hampshire Constabulary said the incident was not thought to be suspicious.