Southampton City Council staff in cuts strike vote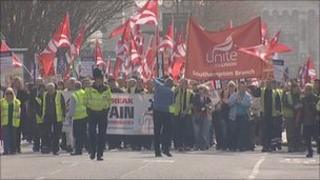 Workers at Southampton City Council have voted to strike to try to stop proposed pay cuts of up to 5.5%.
The cuts are designed to save jobs but the council has said it may still have to make further redundancies.
In the ballot 56% of the Unison members were in favour of industrial action but they will wait for the result of a ballot of the Unite union on Wednesday.
Once that result is known the two unions will decide jointly what action to take and when.
The council has been accused by unions of "blackmailing" staff into accepting the cuts or seeing "even more" cuts on top of 285 jobs losses.
In February, councillors finalised £25m budget cuts and said all workers earning more than £17,500, which is 65% of staff, would have their pay cut, with an equivalent reduction in working hours.
Staff earning £17,500 to £22,000 would have their pay cut by 2%, those in the £22,000 to £35,000 bracket would have pay cut by 4.5%, salaries of £35,000 to £65,000 would be cut by 5% and those those earning more than £65,000 face a 5.5% cut.
The council employs about 6,600 staff.