Isle of Wight Festival 90,000 capacity agreed by council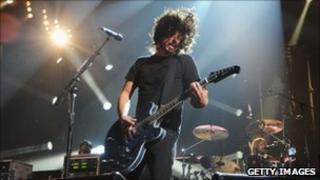 The Isle of Wight Festival will be able to hold 20,000 more people after councillors agreed to boost capacity.
The three-day event, between 10 and 12 June, is allowed to hold 70,000 but promoters wanted it to go up to 90,000 for its 10-year anniversary this year.
No more tickets will be sold this year but the extra capacity will allow for more backstage crew and security.
One councillor said the event would be "unbearable" but the plan was backed at a meeting on Tuesday evening.
Promoters Solo submitted the application to the Isle of Wight Council under the Isle of Wight Act, which safeguards the council over clean-up costs for large events.
Councillor Geoff Lumley, who represents residents living in East Newport, expressed concern over the rise in numbers.
He said it was a "step too far" but the Conservative-led council decided that the island could cope with the increase in numbers.
Foo Fighters, Kasabian and Kings of Leon are playing at the sell-out event this year.