Southampton to host round-the-world Clipper yacht race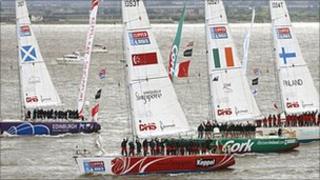 The 40,000 mile (64,000km) round-the-world Clipper yacht race will start from Southampton on 31 July, it has been announced.
A shore-based farewell ceremony and "parade of sail" is being planned in the city.
It is the first time since 2004 the Solent has been the starting venue for a major round-the-world yacht race.
Ten identical ocean racing yachts, with mainly non-professional crew, will take almost a year to complete the route.
In the build up to the start of the race, the fleet will be based in the city's Ocean Village with special events being held for international delegations visiting the city.
Leader of Southampton City Council Royston Smith said: "This is a fantastic opportunity to showcase all that Southampton has to offer to an international audience".
The race was created in 1996 by the first man to sail solo and non-stop around the world, Sir Robin Knox-Johnston.
Sir Robin said: "Fewer people have raced around the world than have climbed Mount Everest - it remains one of life's great challenges and experiences."
The yachts, each named after a city, state or company, will visit 14 ports on six continents on their circumnavigation.
Starting from Southampton the route takes them to Madeira, Rio de Janeiro, Cape Town, the west and east coasts of Australia, New Zealand, Singapore, Qingdao, California, New York, Nova Scotia, Londonderry and the Netherlands before returning to Southampton on 22 July 2012.