Family history a popular pursuit in Hampshire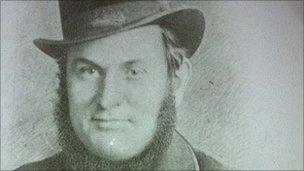 "You tend to lose contact and begin to feel you want to know where you fit in," said Lorna Selby, who has been searching for information about her father, who died before she was four.
"You're looking for something that helps set you in your family community."
She is just one of thousands of people who search every year through the birth, death and marriage records in Hampshire.
US President Barack Obama's return to his ancestors' birthplace in Ireland on Monday is part of a wider trend, experts say, and family history has become a popular pursuit.
Those gathered at the Hampshire record office's taster session are among more than 14,500 visitors a year. Of those, 10,000 are looking for family history, archivist Mark Pitchforth said.
Many said they felt a responsibility to their relatives to find out more about their family's past.
One woman said the search was a birthday present for her 70-year-old father. For another, a quest after her father's death.
Linda Sellwood's fourth grandchild was born a week ago.
She said: "It would be nice to pass it down to my grandchildren.
"My mother is still alive - it would be nice to tell her as well".
Mr Pitchforth said there had been a marked increase in interest in the past decade. He said he believed programmes such as the BBC's Who Do You Think You Are? were behind the trend.
The internet has helped the process by making it easier to sift through census returns, birth certificates and wills.
It has become a lucrative industry, with popular websites charging around £15 to access a birth certificate.
Carol Oade was at the record office to trace her half-brother.
She said a company had offered her a finder package costing more £800. At that price, Mrs Oade said, she would rather do it by hand.
Until recently, Mrs Oade, in her 60s, said she had no idea she had a half-brother.
He was born two years before her in the same Totton nursing home.
But unlike her, her older brother was illegitimate and given up for adoption.
"My mother was besotted with him but had to give him up", she said.
Mrs Oade said she was excited to find him. But even if her search is successful, her brother would have to agree to a meeting.
She said she had also tracked down a picture of her great-great-great-grandfather, who had bought the Dolphin pub in Romsey for £400.
Mrs Selby nodded as Mrs Oade described the story of her half-brother, who was fathered by an American GI.
"I knew as a child lots of incidents where husbandless women were very attracted to people who came with lots of goodies," Mrs Selby said.
"Lots of women were upset when husbands came back from war. You could see it all around you."
Another record office visitor, Laurence Cooke, said he also remembered the war and, unfolding a detailed printed family tree, described how he had been hooked by the pastime.
"You get sucked in, you do," he said.
Related Internet Links
The BBC is not responsible for the content of external sites.