Southampton police arrest six during anti-drug raids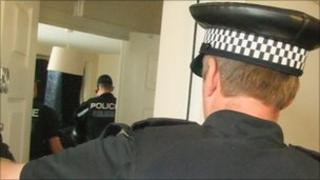 Six people have been arrested by police during anti-drug raids in Southampton.
Ten properties were raided simultaneously by up to 150 officers, Hampshire Police said.
Various substances were recovered along with objects linked to drugs supply and stolen property.
Those arrested include two 18-year-old men from Middlesex, three men from Southampton aged 27, 29 and 47, and a 47-year-old woman from Southampton.
Police said the suspects were being held in custody after the raids which targeted people suspecting of supplying class A drugs.
Officers raided addresses in Golden Grove, Derby Road, Cossack Green, St Mary's Street, Anglesea Terrace, Bevois Valley Road, Ascupart Street, Charliejoy Gardens, Westridge Road and Denzil Avenue.
Supt Steve France-Sargeant said: "Our message to residents is simple: if you tell us about it, we can do something about it.
"We would also like to send a message out to those involved in the supply of drugs.
"We will hunt you down and when we suspect you are dealing drugs, you can expect us to come knocking on your door."
The police have also been working with drugs support agencies to plan for the effects of the raids on drug addicts in the city.