Glasgow family reunited with cat found after five years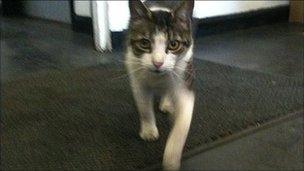 A cat which went missing in Hampshire five years ago is due to be reunited with his family.
The collarless cat, believed to be a stray, was found by staff at a vehicle recovery business in Aldershot.
He had made the office and yard his home and had caught a mouse.
The 11-year-old tabby was thought to have been on a 400-mile journey after his chip revealed a Scottish address but it later emerged his family had moved to Glasgow from Aldershot.
The microchip revealed he was called Pinks, after his pink nose.
His owners, who are travelling to collect him, said they moved to Scotland two years after Pinks' disappearance.
Astrid Eaves, Pinks' owner, said: "He has a identichip, every time you move they update the address.
"I got a phone call from the vets saying we think we've got your cat. At first I thought 'this is a joke'."
Pinks, who had an identical twin brother who died in February, is being cared for by the vets who found the family's details.
Stuart Finbow, workshop mechanic at McAllisters Recovery, said staff had nicknamed the cat Betty.
He added: "The owners were ecstatic, if your cat goes missing after five years you don't expect to see it again.
"I'm going to miss the cat, I've been coming in to work in the morning and feeding him and [now] he's not here."