Southampton heart unit closure 'not acceptable'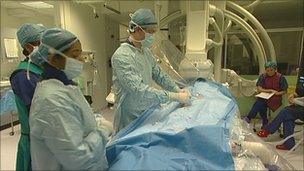 A council leader has written to health secretary Andrew Lansley urging him to reconsider plans to close Southampton's children's heart surgery unit.
Hampshire County Council's Ken Thornber said it was "simply not acceptable" that a unit rated second best in England should close.
An NHS review has recommended there should be fewer, larger centres created and proposals are being discussed.
The Department of Health health said it would respond to Mr Thornber.
Southampton is only included in one of the four options.
The NHS recommended a minimum of four surgeons per unit which means at least four hospitals will stop operations.
Plans to close Ocean Ward at Southampton General Hospital have been met with strong opposition from hundreds of people
The letter follows a protest at Southampton's Guildhall on Tuesday.
"There was unanimous agreement that any proposal to close a centre that has been judged by independent experts as providing the second highest quality service in the country is simply not acceptable," said Mr Thornber.
"The children treated at the centre are amongst those with the greatest need for life-saving surgery.
"To expect parents to be prepared to take their child to another centre that is not able to demonstrate the same quality of service and may be many hours drive away is astonishing to them."
Mr Thornber said he accepted that all health services needed to be safe and sustainable and there were some "difficult lessons" that needed to be learned from the Bristol Inquiry - following the deaths of dozens of babies at Bristol Royal Infirmary in the early 1990s.
But he said penalising centres that provide the highest quality of care was counter intuitive.
"This also ignores the express views of parents that quality of care not distance is the priority," the Conservative councillor added.
"This point seems to have been lost in a complex options appraisal process that has processed families by some sort of postcode lottery and ignored their right to choose where the care for their child is provided."
A Department of Health spokesman said: "We will respond to the leader of Hampshire County Council in due course.
"An independent review has been carried out and led by the NHS and clinicians to ensure that children's heart surgery is safe and fit for the future.
"No decisions have been made - it would be premature to pre-empt the outcome of the consultation process on the options set out.
"We urge all those with views to express to contribute to that consultation process."
There are about 30 child heart surgeons across England who carry out 3,600 operations each year.
Southampton has been rated as the best outside London and carried out more than 330 operations in the last year.
Opponents also say if it closed, patients on the Isle of Wight would have to travel even longer than the maximum three hours to a specialist unit which the review recommends.
Only one of four options being considered would lead to Southampton staying open.
Units in Bristol, Birmingham and Liverpool would be retained in all options, with Newcastle included in three of the scenarios, and Leeds and Leicester in one each.
A public consultation runs until 1 July with a final decision due in the autumn.
Related Internet Links
The BBC is not responsible for the content of external sites.