USS George HW Bush aircraft carrier crew in Portsmouth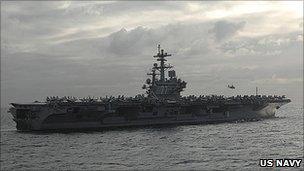 The US aircraft carrier George HW Bush has arrived in Portsmouth for a three-day stay.
The 1,100ft (335m) carrier is too large to enter Portsmouth Harbour so is anchored at Stokes Bay in the Solent.
More than 5,000 sailors and aircrew are due to spend their shore leave around the city or travel on to other destinations including London.
Fourteen extra police officers and 40 to 50 US Navy officers will be on patrol in Portsmouth during the visit.
The ship, known as "Bush", has been taking part in the multi-national Exercise Saxon Warrior in the Western Approaches with the Royal Navy and other Nato forces.
Commodore Jeffrey Wolstenholme said: "The crew are very excited to be making this port visit at this great city. They're very much looking forward to seeing the sights.
"We're here to represent the US Navy and we'd have expectations the sailors would represent us the way we'd expect."
The US Navy has paid for the additional police effort in Portsmouth for the shore leave.
Pc Alan Hockley said: "We're working with local establishments to make sure they have a safe and enjoyable visit."
The carrier is the newest in the US fleet and carries more than 70 aircraft. It is powered with two nuclear reactors with its top speed exceeding 30 knots.
It is due to depart at 1000 BST on Tuesday.
Related Internet Links
The BBC is not responsible for the content of external sites.