MSC Opera cruise ship allowed to leave Southampton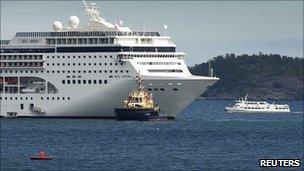 A cruise ship which lost power in the Baltic and was later detained in Southampton following an inspection has been allowed to leave port.
Maritime and Coastguard Agency (MCA) staff visited the MSC Opera when it returned on Wednesday.
The MCA said: "The ship was not fully compliant with international maritime safety regulations."
Following checks made by the company, the ship was allowed to sail and left Southampton at 1900 BST.
It had been due to leave on its eight-night cruise in the Norwegian fjords at 1600 BST.
An MCA spokeswoman said various defects had been found during the routine port state control inspection but the vessel's owners had been given a solution that allowed them to meet the agency's requirements.
On the earlier cruise the Italian ship left Southampton on 7 May with 1,800 holidaymakers on board for a trip visiting Copenhagen, Helsinki and St Petersburg.
But after the power went off close to the island of Gotland the following day, passengers had complained about blocked toilets and being in "total darkness" as the ship drifted.
It was towed by Swedish coastguards to the port of Nynashamn near Stockholm.
After about 400 British passengers were flown home from Sweden, MSC Cruises apologised for not offering "its usual standards of service".
It added that passengers would be given credit vouchers for the full value of their trip.
Related Internet Links
The BBC is not responsible for the content of external sites.