Hampshire council agrees to Sure Start children centre plans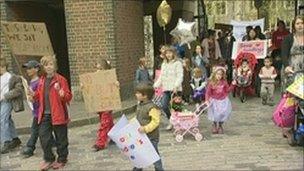 Revised plans to re-organise Sure Start children's centres have been agreed by Hampshire County Council, disappointing campaigners who opposed the changes.
More than 1,200 people participated in the consultation over changes which the council had said were "necessary".
Mothers said children will "suffer" as a result of the decision. The modified proposals cut £6m from the service, representing 35% of funding.
All 81 centres will remain open but will not have individual managers.
The council has agreed to create 15 "clusters" of management for centres. This is nearly double the original plan of eight, which councillors believe will help maintain local links.
Management of the clusters will be tendered to private companies.
The council said about half the centres are already managed by third parties.
Plans were also agreed to introduce a charging policy for discretionary services, such as slimming clubs.
The council has promised mothers on low incomes will be protected from the charges.
Catherine Ovenden, of the Save Our Children's Centres Hampshire campaign (SOCC), said: "I understand they've got difficult decisions to make with budgets.
"But when you know from your own experience how vital they [children's centres] are, to know that they are still going to cut 35% out and say we won't notice the change - we're clearly going to notice the change."
Councillor Roy Perry said: "I am very aware of the strength of support for the high quality services offered by our children's centres.
"My decision rested not just on the responses alone but other factors including the lack of any viable alternatives to achieve the necessary savings."
Related Internet Links
The BBC is not responsible for the content of external sites.