Hampshire groups in National Lottery Awards vote appeal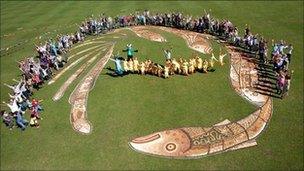 Two Hampshire projects are hoping to receive the public's votes in the semi-finals of the National Lottery Awards.
They have been short-listed for the change they have made with their Lottery money to the local community.
The Hampshire nominees are the Bluebird Care Hampshire Disability Cricket Project and the Itchen Navigation Heritage Trail Project.
They will be up against other National Lottery-funded projects from across the UK when voting opens on Tuesday.
The Petersfield-based Bluebird Care Hampshire Disability Cricket Project is competing in the category for Best Sport Project.
The project, which received £30,000 from Sport England, promotes disability cricket in a wide range of areas.
The project's Greig Stewart said: "Lottery money has enabled us to promote disability cricket in a much wider sense, from encouraging disabled people to play the game, become coaches, as well as working with cricket clubs to advocate inclusion of disability cricket."
The Itchen Navigation Heritage Trail is competing in the category for Best Environment Project. It works to repair and enhance the Itchen Navigation which received £1,745,600 funding from Heritage Lottery Fund.
Ali Morse, Itchen Navigation project manager, said: "Lottery money is helping us to secure the future of this fantastic wildlife site by repairing degraded banks and habitat, as well as restoring historic locks, and involving local communities."
The winning project in each of the categories will receive national recognition at an event later this year, broadcast on BBC One, as well as £2,000 to spend on their project.
There are seven categories in the awards, each reflecting the main areas of lottery funding: Arts, sport, heritage, health, environment, education and voluntary/charity.
Voting for the semi-finals starts at 0900 BST on Tuesday and ends at 1200 BST on 20 June. The three projects with the most votes in each category will go through to the final round of public voting.
Related Internet Links
The BBC is not responsible for the content of external sites.