Landslide dividing Hill Head repaired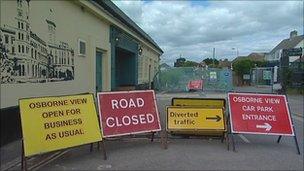 Work has begun to repair a landslide which has left a Hampshire community cut in half for more than a year.
The cliff top road at Hill Head, near Lee-on-the-Solent, collapsed in January 2010 damaging a number of cottages at the bottom.
Businesses say they have lost income because the road has since been closed and they have called for compensation.
The county council says it will not pay out since access has only been restricted, not completely cut.
The repairs were delayed while Hampshire County Council argued with the cottage owners' insurance companies.
Bill Hutchinson, of Hill Head Resident's Association, said: "They've been chasing the liability of the adjoining land owners instead of getting on with the repair.
"The Highways Agency which look after trunk roads and motorways, if they have a problem they repair it and then sort out liabilities.
"There's no reason why Hampshire County Council couldn't have done that."
Breezes Cafe opened a few months before the landslip happened and owner Maria Lewis said she was convinced passing trade has been seriously affected by the closure, especially during the last summer season.
She said she estimated takings were down about 40% on what they could have expected if the landslide had been repaired earlier.
She said: "We used our own savings to survive, thinking always it was going to be done quicker than this.
"In hindsight, had I known it would take 18 months we should have just shut up shop then and waited until the road had opened again. It was always going to be next month, next month, next month."
Mel Kendel, Hampshire County Council, said: "At all times we've provided access to all the local businesses and all the local residents, but I do appreciate that inconveniences have occurred.
"Unfortunately there's not much I can do about recompensing them."
Related Internet Links
The BBC is not responsible for the content of external sites.