Southampton traffic wardens start strike over pay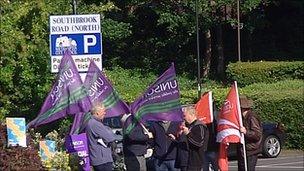 Parking wardens striking in Southampton over pay cuts have extended their walkout for a further seven days.
Up to 40 traffic wardens, maintenance engineers and bulk cash collectors went on strike on Tuesday over proposed pay cuts and a three-year pay freeze.
It follows industrial action by refuse workers last week, who have announced they will strike again on Saturday.
Conservative-led Southampton City Council said the only alternative to cuts would be more job losses.
Union members working as supervisors and toll collectors on the council-run Itchen Bridge will walk out for seven days on 7 June.
Public sector unions Unison and Unite said the strikes had been extended due to council chiefs refusing immediate talks with the government's arbitration service, now set for the end of June.
It estimated the council could lose £100,000 in revenue throughout the strike this week, but managers who are not striking are continuing to work and are issuing tickets.
A council spot test has shown nine out of 10 drivers were still paying and money from cash machines will continue to be collected as normal.
The union said workers faced a 4.5% wage cut, plus a three-year pay freeze and a loss of annual pay progression for two years.
Traffic warden Andy Tubb said he was worried about not being able to afford to send his daughter to university.
"In real terms for myself it means about a £1,300 loss over this next 12 months, which then looks as though it's going to get worse as it goes through."
Union members still at work are making up the wages of those on strike.
Mike Tucker, branch secretary of Unison, added: "The dispute is not about a pay increase, it's about how much their wages are being cut.
"They feel it's not fair for their wages to be cut when they are carrying out a very difficult job."
Deputy council leader Jeremy Moulton said the council had to try to protect jobs and services while tackling a financial black hole of £65m over the next four years.
"By changing the terms and conditions we will actually protect 400 jobs.
"I know it's tough but it's better to keep people in work."
He warned that although there was a strike a reduced ticket enforcement service was still operating.
Related Internet Links
The BBC is not responsible for the content of external sites.