Decay fears for Portsmouth 'haunted house'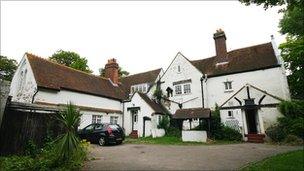 A manor house alleged to be among the UK's "most haunted" has been classed as "at risk" on a historic buildings list.
The charity Save Britain's Heritage believes Wymering Manor - which was mentioned in the Domesday Book - should be saved for the nation.
Portsmouth City Council, which owns the building, said it did not have enough money to repair the building.
Penny Mordaunt, Conservative MP for Portsmouth North, said she welcomed the decision.
Ms Mordaunt said she had worked with the Friends of Old Wymering group to get the building recognised.
She said the group had developed a business plan to turn the manor into "a wonderful community asset" and being classed "at risk" would help it obtain funding for restoration work.
It plans to turn the ground floor into a community centre with the upstairs turned into a boutique hotel.
Ms Mordaunt said the Heritage Lottery Fund was potentially interested in funding the work and local volunteers were ready to help restoration
She said: "We are now waiting for the green light from the council."
Wymering Manor was mentioned in the Domesday Book in 1086 and has also been a monastery, family home and vicarage.
It was most recently a youth hostel between 1960 and 2006.
It has been featured on the television programme Most Haunted.
So-called paranormal activity, such as sudden drops in temperature, the apparent sound of children whispering and apparitions, have been documented by enthusiasts.
Tracey Jones, from the Friends of Old Wymering, said: "It's a very beautiful historic buildings. It very rare to have a building of that age still standing.
"It's in the heart of a community".
Portland Hotel, on Portland Road, has also been listed in Save Britain's Heritage's list of buildings at risk.
Marcus Binney, the charity's president, said the list was designed to highlight "historic buildings standing empty and decaying".
Portland Hotel's owner has recently been refused permission to convert the upper floors into living accommodation.
Related Internet Links
The BBC is not responsible for the content of external sites.